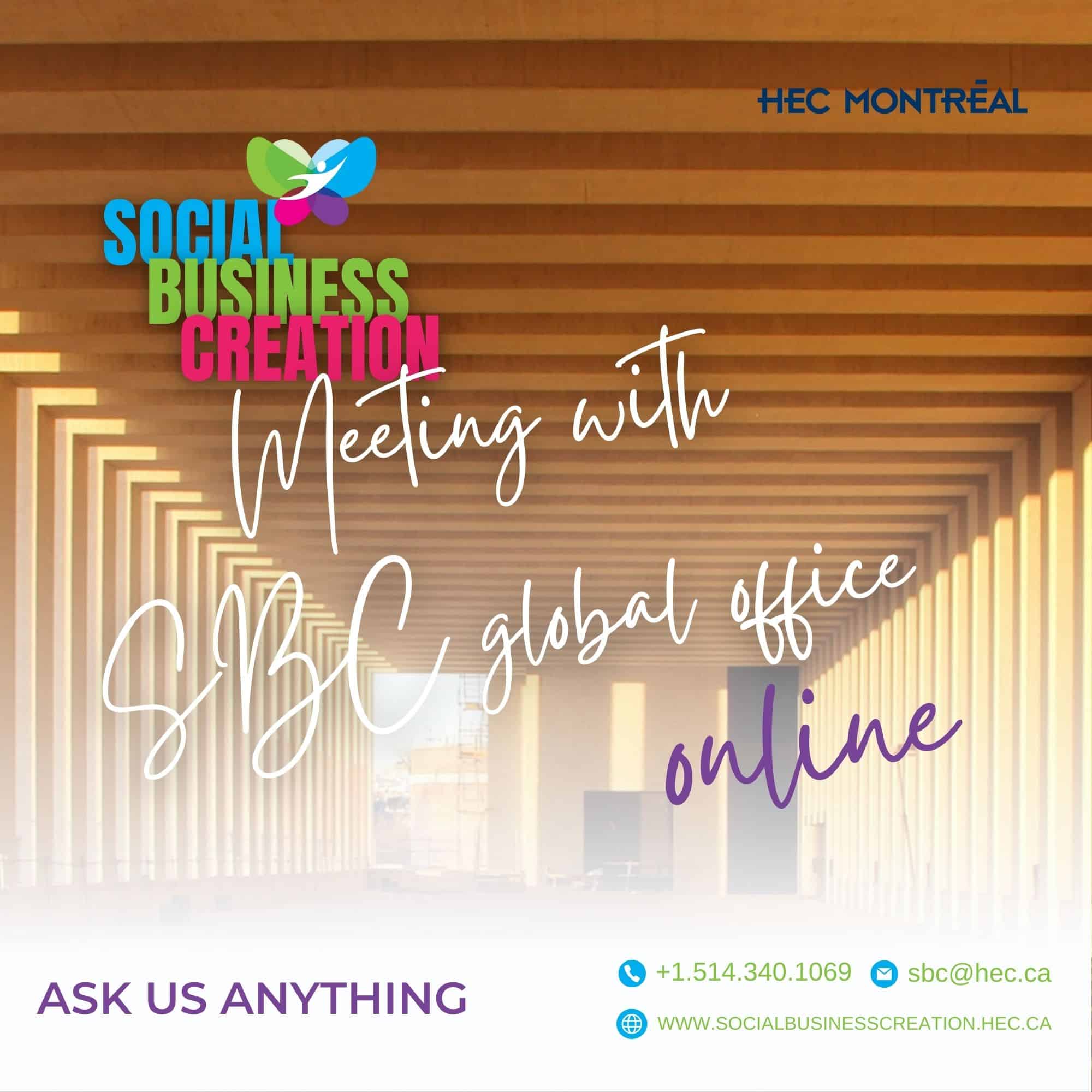 Friday meeting with SBC global office
Hop into our virtual Friday open session to ask our global office any questions about Social Business Creation (SBC) programs
Zoom link: https://hecmontreal.zoom.us/j/87516376858
Meeting ID: 875 1637 6858
Conferences:
The SBC conference is a platform for intellectual exchange among scholars and practitioners to advance the field of social business. The 2023 conferences were held in Veracruz, Mexico, in April and in Montreal, Canada, in June.
The next conference will be in Bangkok, Thailand, in the early summer of 2024. More information will be available by October 2023.
Competition:
SBC global competition is an innovative training platform through which participants learn how to use market mechanisms to address social issues for the betterment of society. SBC promotes a 7-month competition structured in four stages, which provides experiential learning using a gamification approach to enhance the student learning experience while they develop their social business project. Participants can access workshops, online courses, coaching sessions, judges' feedback, and more.
Round 1 (Social Innovation Generation – SIG)
Round 2 (Business Model Innovation – BMI)
Round 3 (Execution and Scale-up – ES)
Round 4 (Social Impact Acceleration – SIA)
SBC COMPETITION BROCHURE – E2023
Training of trainers:
Social Business Creation (SBC) offers the training-of-trainers (TOT) program designed to enable educators and business professionals to become more effective trainers, particularly in social entrepreneurship, and provide essential knowledge and tools to create programs that support social business and social entrepreneurship development. The program includes several lecture series and hands-on practice under SBC guidance from March to September 2023. People passing the rigorous training are awarded SBC trainer certifications. Completing the foundational course is required before participating in specialized training in SIG, BMI, SBI, and SIA. For more information, click here.
Speakers
Léa Kebbal

Young French girl born and raised in China; I am a multicultural person who decided to study in Canada. I'm at the second year of the Bachelor in Business Administration (B.B.A) program in HEC Montreal.

Open-minded, empathic, reliable, and resilient, I'm determined and perseverant in any task I undertake. Appreciate traveling, understanding new cultures, and helping others in that humanitarian spirit; I hope to pursue a career with a social impact.

I am happy to work with SBC as Outreach Coordinator for students in Montreal.

Mai Thai

Dr. Mai Thi Thanh Thai is Associate Professor at HEC Montreal, where she teaches social entrepreneurship, new venture creation, strategies in emerging markets, and qualitative methods. Her research focuses on the link between entrepreneurship and its socioeconomic, cultural, and political contexts. She was the editor-in-chief of the Journal of Small Business and Entrepreneurship from 2015 to 2020, during which the journal experienced unprecedented growth in terms of full-text downloads, manuscript submissions, and journal rankings. She has published over 50 articles in peer-reviewed journals, contributed several book chapters, edited two books, and made presentations at numerous academic conferences. She has won many local and international awards for her performance and commitment in her different roles as a researcher, teacher, and entrepreneur throughout her career. At present, she is heading the global program Social Business Creation which uses gamification to teach social entrepreneurship with a focus on using market mechanisms to solve social issues.

Valentina Ladino

Responsible for business development and growth commmunity in Global Levels. Social entrepreneur with 5 years of experience on ecommerce and digital marketing. Strategic leader eager to develop tech products and consultancy in all levels for 500 fortunes enterprises. I am an expert in opening markets and creativity. In Colombia, we have made contracts with important companies and get recognized for our public relations management. Excellent communication skills and goal-oriented.
Next Occurrence
Date

Dec 15 2023

Time

Montreal time

8:00 am - 8:30 am